If my blog were a child, I'd probably be in big trouble for neglect right about now. While I've been busy, it's not even that I've been SUPER DUPER busy. I did write a fairly
rambling
lengthy post yesterday, but didn't post it until tonight. By then, my perspective had changed a little.
Last night at church, our worship leader talked about how he'd been to a concert the night before (not a Christian group) and that while he'd enjoyed the show, he left there feeling somewhat empty. The songs and music were good, but without God, there really wasn't anything of substance there for him. He was so hungry to be in church this weekend, to worship God with the Body of Christ. In that, there is meaning, significance, and value. These are songs being sung in praise and worship to our Lord.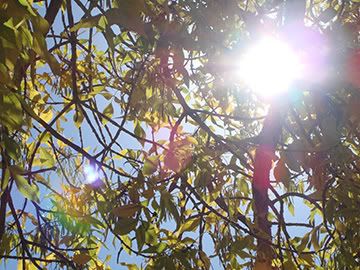 I realized that yesterday's post, while rambling around, talking about both nothing and everything, complete with YouTube videos was kind of like that. I enjoyed writing it. I had fun reminiscing with videos of music from my past. But really, it was empty. Not to say that all my posts are deep and insightful, or even full of godliness. Even though I felt lead not to post it, I did. I decided it wasn't all that harmful and besides, my poor blog child needed some fresh material. So I posted it tonight. Then the YouTube videos wouldn't load. Hmmm . . . maybe God was trying to tell me something. Something he'd already told me.
I know that in this life here on earth, not every thought, every decision, nor every action will be righteous, holy, or about furthering the kingdom of God. But I pray that each day I come a little closer to the goal. That I'm a little more Christ centered. A little more refined. So I'll start here, listening to the leading of the Holy Spirit. I may not always understand, but that's okay. God is faithful and true and I can always trust Him.
"Blessed is the man who trusts in the Lord, and whose hope is in the Lord. For he shall be like a tree planted by the waters, which spreads out its roots by the river, and will not fear when heat comes; but its leaf will be green, and will not be anxious in the year of drought, nor will cease from yielding fruit."
May I love God, love others, and bear fruit that lasts.