Sometime around December of 2009, Lucy and I did a Make & Take at Archiver's while we there cropping one Friday night. It was a cute little book with pockets in it made out of a piece of 12x12" cardstock. I made one for my sister to use as a gift for someone she worked with. I proceeded to post a few pictures and tell
about
the book, but not
how
to make it. You can see it
here
. My dear friend, Michelle, said she'd like the instructions because it would be fun to put prayers in the pockets and give it to someone. I probably said I'd be happy to share my newly-learned directions with her.
But I never did.
Sigh.
I did, however, keep the email containing her comment asking for instructions. All this time. Since 12/21/09.
Sorry, Michelle. What a major procrastinator I am!
And I am happy to report that now, nearly four and a half years later, I'm finally posting the instructions. For Michelle. Or anyone else who'd like them.
1. Start with a 12x12" sheet of double-sided cardstock. Not patterned paper, but cardstock (I just don't think paper would hold up all that well, but you could try it).
2. Cut it in half. Either direction. Ha! Ha!
3. Score each half at 2" the long way. Figure out which side you want to be inside and which will be the outside. Fold on the score line the appropriate way. This forms the pockets.
4. Now score each half on the back side at the center (6").
5. Score at 3" in from each end on the opposite side.
5. Fold it back and forth, accordian style, as shown in the picture.
6. Using a very narrow adhesive, adhere the outside open edges on each half to close the pockets. If your adhesive is very wide, it takes up pocket space. I love this adhesive because it's only 1/8" wide and it does a great job of holding things together.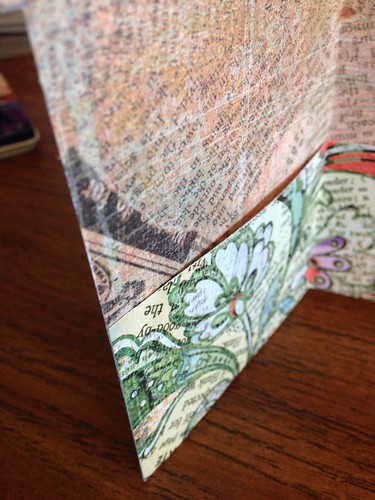 7. Adhere the two sections together at the center. Yes, I know, my outside edges aren't yet adhered in the picture. I did this in reverse order on these two steps when I made it.
Now it's one long accordion with a slightly thicker center where the two pieces are adhered to each other.
8. From a scrap of coordinating cardstock, cut a piece 2x4" Score at about 3/4" in from the long edges on both sides. Fold. This will form the spine. You can also tear the edges or use decorate scissors or sponge ink onto them for a different look.
9. Put adhesive on the two sides of the spine, but not in the center strip. Align book inside the spine and attach together.
10. Determine desired length of ribbon to wrap around the book and tie in a bow. Center over the spine and adhere (glue dot or adhesive) on the front at a minimum. You can also add adhesive on the spine and/or the back as you want. Another variation would be to put the ribbon underneath the spine. In my finished product, the ribbon is on the outside, although you'll see me attaching it to the front before the spine went on. How I made it and how I'm writing the instructions are a little out of order.
11. Attach decorative die-cut or sticker or whatever other bling you'd like to add to the front over the top of the ribbon.
12. Put stuff in the pockets - gift cards, money, notes, gum, miniature Flat Stanley and family, or whatever else you can come up with. Tie it closed with a bow. Or knot.
13. Clean up the mess that is your desk. Or maybe that's just me. In all fairness, I did another project before this one, which would be why it's super extra messy. Or at least that's my story and I'm sticking to it. Actually, now that I look at that mess, it's from the other project, not this one at all. Oh well. The messier the desk, the more creative. That's my motto and I'm definitely sticking to that one.
If you have any questions or anything doesn't make sense, let me know. Enjoy!!