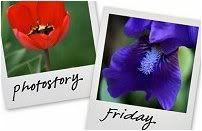 Hosted by Cecily and MamaGeek
I've done an extraordinary job of participating in the
Homeschool Memoirs
meme over at the
The Homeschool Post
. This marks my third post (out of a total of 21). LOL!! It will also serve as my entry back into the
PhotoStory Friday
meme.
This week's theme is to post a photo from your school years. I have plenty, but this one is recently scanned and available. This one will add a little unknown tidbit for you: I was a pom-pom girl in high school. This was shot at a local park (a big huge hiking trail park with bluffs and hills and such) early in the morning. When we were done with the shoot, we went to McDonald's for breakfast. That was around the time McDonald's started serving breakfast. I had the pancakes, cause I'm not an eggs kind of gal. Funny, the memories you can find attached to things.
I had my first car at the time - a 65 Impala convertible. Dark blue with a white top. I once hauled 8 pom-pom girls in it (including me). My best friend and I both "drove." I steered, operated the brake, and the turn signal. She steered, operated the accelerator, and the gear shift. We had to, because both of us were squished into the driver's seat space. Four girls in front, four in back. Rag top down, of course. Fun times.
Check out more school photos
here
, and for other PSF entries, click the button.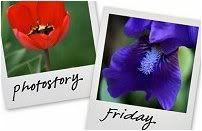 Hosted by Cecily and MamaGeek
And have a wonderful Friday!
p.s. - the photo is circa 78-79