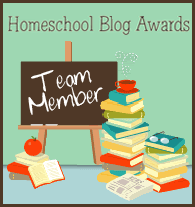 I am excited to be a part of a new team of 15 ladies who are site contributors for the
Homeschool Blog Awards
. There will be daily posts with interesting tips, devotionals, stories, interviews with homeschool bloggers, blogging advice, articles, links, photos, information, product reviews, and more! We hope to make the site a hub of useful information and encouragement for the homeschooling community. We will be actively preparing for the 2007 Homeschool Blog Awards this fall, and hope to wrap them up by the end of the year.
Here's what you can do to help:
Start writing down the names of homeschool bloggers that you would like to nominate for the awards


Grab the 2007 Homeschool Blog Awards button and post it on your own site, with a link to the HSBA website


Let us know about vendors that you would like to see donate prizes for the awards


Stop by and see what our writers are posting daily


Last, but not least - SPREAD THE WORD!
btw - credit for the writing of this goes to my teammate, Dawn, at
My Home Sweet Home
because I liked what she wrote . . . and I was having writer's block. LOL! Oh, she also gets credit for our HSBA button up there and over there. Nice work and thanks, Dawn!