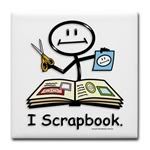 I've scrapped and stamped for about eleven and a half years now, eight of which I was a demonstrator for St*mpin' Up! That means I have an
abundance
of scrapbooking and rubber stamping supplies. There is no way on earth I will ever use all of this. Besides, it takes up way too much space (when combined with ALL the stuff I do use!).
So I come to you, my
many
four or five readers, to solicit ideas. What on
earth
do I do with it all? I cannot just throw away perfectly good paper crafting supplies. Giving it to Goodwill, ARC, etc. doesn't seem like a viable option. I could have a bloggy contest and give it away. But I don't want to spend that much money (postage) just to see this stuff leave my house. Sell it in grab bag form on ebay? It's definitely not going to be a good yard sale draw.
It consists of papers (LOTS of papers/cardstock - solid, patterned, large, and small), ribbon, emebellishments, templates/patterns, some stamps, and other accoutrement. In fact, I'm still going through stuff and filling up box(es) with it.
Oh, and another thing - what do I do with an overabundance of pens, pencils, markers, etc.? I am a certifiable paper/office supply/writing implement junkie! I do know that if they don't write any longer, I ought to throw them away. I can handle that. But what do I do with all the rest (beyond what I keep)?!?
So . . . any great ideas? Anyone want some for the cost of postage? Anyone here local want to take it off my hands? I need the space and some ideas.
p.s. - is that FREE stamp in Cleveland just the coolest thing? I'd like to go see it in person some day.