This is a repost of my second blog post ever (
Is It a Breadstick
, 09/06). At the time, it served as an entry to a contest. Now it serves as an entry to
Dana's
Carnival of Homeschooling -
The Homeschool Bag Lady
edition. I also updated it with a few photos of the resulting scrapbook.
~~~~~~~~~~~~~~~~~~~~
At the beginning of our first year of homeschool, we were studying Sculpture and Pottery. On our way to the local art museum, a moment of spontaneity hit – the Art on the Streets program exhibits various sculptures throughout our downtown area. Instead of the museum, we opted to do a "Sculpture Walk." The assignment? My son, with notebook in hand, would write the title, the artist's name, what material he thought was used for each piece, as well as something of interest to him. We photographed each sculpture, eventually including my son in the pictures.
As we reached the end of our walk, we came upon this particular piece from the backside and my son thought it looked like a breadstick, so he promptly "took a bite!" We had no idea what it was supposed to be until we got around to the front.
It's called "Nun More Happy." (This also provided an opportunity to discuss puns.)
Once the film was developed, my son created a small scrapbook. Each layout included one or more photos along with the information he wrote during our walk.
The cover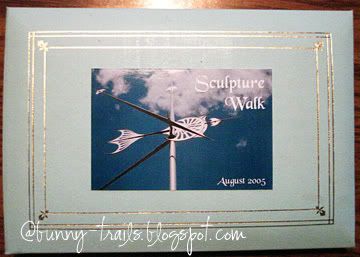 Our Sculpture Walk turned out to be loads of fun and it gave him (and me) a new appreciation for sculpture. Since they rotate the Art on the Streets, we may have to do a Sculpture Walk II.
Running from the big buffalo and looking waaaay up at the bear
Checking out what the very tall cowboy's reading
While it's not a good shot, he's got his tongue sticking out in a "yummy" kind of look. The title of the pig and chicken is
Ham & Eggs
.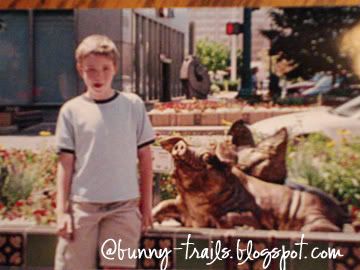 ~~~~~~~~~~~~~~~~~~~~~~~~~~~
Click here to read more Carnival entries -