One Sunday morning, I thought I'd bless my family with some breakfast coffee cake. I have a recipe from my friend that results in the kind of coffee cake I used to get at Starbuck's. Yum.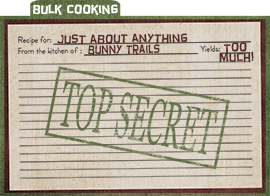 I pulled out a couple of mixing bowls - one for the cake, one for the topping - and began assembling ingredients. Both bowls required flour, so that was quick and easy. As I added the other items, I discovered that I was putting them in the wrong bowl. Sigh. It was the
chicken enchilada soup
episode all over again.
A quick bit of math (see, kids, multiplying fractions is a very useful skill!) and I made somewhere around a double batch of coffee cake. Definitely enough for more than one breakfast!
And there was much rejoicing.