A number of years ago, I read about
Letterboxing
in a
Rubber Stamper
magazine. I always thought it would be a lot of fun to do with the boys. Last year, we finally got our act together and made some stamps, printed out some clues, and went to hunt out our first box. Unfortunately, after two different attempts, we could not locate the box. I'm not sure if we didn't follow the clues correctly or if the box was MIA.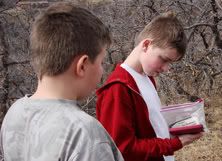 Today we went in search of another box and we FOUND IT!! It was very exciting to follow the clues and actually find a box that someone placed in a secret place! This particular box has had many finders over the past few years; in fact, they are on their second book.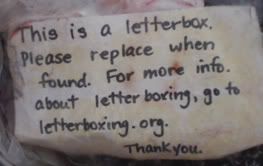 The funny thing is that when I made our stamps, I didn't know what I wanted mine to be, so I made a shiny sun. My boys wanted stamps - a bat for my oldest and a rabbit for the younger. When I saw them today, I begged my son to let me have the rabbit since it goes along with Bunny Trails! He wasn't real big on the idea at first, but I told him we could stamp their book "Bunny Trails & Son." He like the pun and decided that was okay.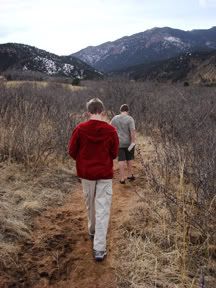 Next week should be pretty nice again, so I think we'll be off in search of some more boxes. Woo hoo!